Displaying the latest solar PV systems, equipment, and applications in the world, 2016 PV Taiwan International Photovoltaic Exhibition was held for 10th time in Nangang Exhibition Center, Taipei
Taiwan claims the goal of 20GW of PV installation in next 10 years is estimated to generate NT $1.2 trillion market value
PV Taiwan show attracted 131 exhibitors (22% new) occupying over 392 booths. Products were on display include the latest solar PV systems, equipment, and applications. The finest renewable energy companies gather here to build the most professional and comprehensive exchange platform. Over 10 professional forums and more than 100 procurement meetings were held at the show.
PV Taiwan, organized by TAITRA, SEMI and TPVIA, focuses on the areas of PV systems, equipment & materials, testing & certification, energy storage and innovative technologies. Leading forums reveal international markets, technologies and business opportunities. With annual growth, PV Taiwan definitely is your best gateway to Asia.
Vice President Chen highlighted again the short-term goal of 1.52GW of solar installations in two years. It will cover 910MW of rooftop projects and 610MW of ground-mounted projects. Chen announced that the government will give an all-out effect to solve issues in land, capital, and regulations.
Exhibiting in PV Show, top notch Taiwan companies:
The companies operating in PV System field are:
1. Plus Renewable Corp. which displayed its Solar Floating System & Land System by HDPE product,
2. Cheng Yi Technology which displayed its Solar PV System,
3. Darfon Electronics Crop., which displayed its Micro Inverter, Storage Inverter, Lithium Battery and Data Logger products,
4. STC International Co., Ltd, which displayed its Portable Power Station,
5. eBsuccess Solutions Inc. which displayed its Solar Monitoring System, Solar Alert System, eB-Datalogger and in equipment field MOS Technology Inc. which displayed its microCELL- Laser Systems for Photovoltaics at 2016 PV Taiwan.
There were some leading companies exhibited their products during PV Taiwan 2016:
Best Quality & Wise Choice: Neo Solar Power
With a vision of providing clean, renewable and cost-effective energy, Neo Solar Power (NSP) was founded in December 2005. NSP is a world-class leading solar cell manufacturer specializing in research, development, and manufacturing of high-efficiency solar cells and modules. Following its merger with DelSolar in 2013, NSP has become the largest solar cell producer in Taiwan. NSP's
management team consists of inter-disciplinary experts in semiconductors, electronic systems, silicon raw materials, solar cell technology, and solar energy system engineering with a proven
track-record in delivering industry-leading conversion efficiency and production costs into their solar solutions. Long-lasting cooperation with foreign and domestic R&D institutions is also part of their technological backbone. As the pioneer in combining semiconductor manufacturing discipline and seasoned solar technology development, NSP aims to keep leading the way in the transformation of photovoltaic energy into a competitive, pervasive and everlasting energy source for mankind.
NSP displayed its Mono-Crystalline Photovoltaic Module and Multi-Crystalline Photovoltaic Module with Multi-Crystalline Silicone Solar Cell at the fair which feature high quality, outstanding performance and reliability that you can count on. Hello325 (325W) Heterojunction was very popular in the fair.
Your Reliable Partner in the PV Industry, AU Optronics Corp.: Together We Shine
AU Optronics Corp. (AUO) is one of the world's leading providers of optoelectronic solutions. AUO was formed in September 2001 by the merger of Acer Display Technology, Inc. (the former of AUO, established in 1996) and Unipac Optoelectronics Corporation. In October 2006, AUO acquired Quanta Display Inc. AUO has thus been operating production lines of various generations, capable of
offering TFT-LCD panels from small to large sizes. AUO was also the first pure TFT-LCD manufacturer to have been successfully listed at the New York Stock Exchange (NYSE). AUO extended its market to the green energy industry in 2008 to provide customers with high efficiency solar solutions.
AU Optronics Corp. displayed its great projects, Worldwide Track Records and its Smart Energy Storage, SunVio PM060MW2, SunForte PM096B00, Performance Capability for Solar Power Plants, Management System and All-round Power Plant Service, High Performance Solar Modules and Group Resource Synergy in the show.
Machine's Security Guard: LeadFar Technologies Inc.
Base on the like of predictive and proactive maintenance technologies; LeadFar Technologies keeps absorbing and developing the new maintenance information and hoping to continue the new technologies and ideas according to the traditional maintenance skills and strategies. Leadfar offers Transformer Oil Gas Analyzers, Vibration and Field Balancing Instruments, On-Line Monitoring
Systems, Vibration Sensors and Accessories, Laser Alignment Systems, Laser Geometrical Measuring Systems, Pre-Cut Shims, Oil Analyzers, Other Maintenance and Measuring Tools and Predictive and Proactive Maintenance Service.
LeadFar Technologies Inc. displayed its Intelligent Auto-PV Cleaner which is a solar panel is built in to the cover, generating itself the necessary powers for operations, and requires no electricity. By adopting the auto-cleaning wiper to the product, cleaning is done automatically on rainy days, without the generation of solar power being affected, and it is now possible to clean without any water pipes!
Premium quality at every stage: WINAICO!
WINAICO is a manufacturer of high-performance crystalline photovoltaic panels as well as provider of photovoltaic systems. As a subsidiary of Win Win Precision Technology which is headquartered in Taiwan, WINAICO has access to many years of experience as well as to the latest discoveries in semiconductor technology. Their expansive corporate structure allows them to deliver from stock quickly and reliably, both locally and if necessary, anywhere on the planet.
WINAICO manufactures its high performance panels on an ultramodern and fully automatic production line. Their execution and integration of systems technology is supported by their comprehensive experience and knowledge which in turn permit careful process control and optimisation. As a result, outstanding quality, minimal downtime and reliable reproducibility are assured. Besides the integrated overall layout of its systems technology, WINAICO has, when it comes to choosing systems technology vendors, placed its faith on machines from the quality leaders in both Europe and Japan.
Your PV Inverter Professional: PrimeVOLT
Founded in 2010, built by most experienced team in Taiwan ( since 2003 ) , merged with APD in Aug. 2014.
PrimeVOLT, a member of the APD Group, is a leading supplier of PV inverters in Taiwan. Its R&D team is one of the pioneers of the power electronics field in Taiwan and the company has long dedicated to the design, research, production and sale of solar power ( PV ) equipment. PrimeVOLT focuses on ODM for global strategic customers. Its mission is to provide premium products and services that make PV inverters easier to use and well-suited to your
business model. PrimeVOLT have positioned itself as a leader in the PV industry by working with many global players. As a result, it has experience to supply nearly 200,000 inverters to customers in every corner of the world. PrimeVOLT is dedicated to encouraging innovation and developing new products and technologies. To provide distinctive and highly valued products, services and solutions with continuing technology innovation.
The products such as Single Phase On-Grid Pv Inverter, Three Phase On-Grid PV Inverter, Data Logger, MPPT Solar Charge Controller, Inverter / Charger Baymax and DC BOX attracted at PV Taiwan 2016 show.
Service, Innovation, Quality, Technology and Social Responsibility: Brave C&H Supply Co., Ltd.
Founded in Taiwan at 1994, Brave C&H Co., Ltd. upholds the philosophy of "Service, Innovation, Quality, Technology and Social Responsibility". Through over two decades of industry transformation and market dynamics, and confronted by ever-accelerated product life cycle and product advancement, Brave
continues its evolution and transcending growth. Brave successfully makes transition from printing supplier to high-end precision printing screen maker, and relentlessly devote ourselves to R&D and innovation. Their screens are excellently applied to ultra-precision printing needs for Solar Cells, Touch Panels, Electronic Components, and PCBs alike.
Apart from transfer of screen technology to overseas and providing
the unique total solution, Brave actively builds international marketing channels and professional business network. Via unleashing the synergy effects, it enables our warm reach to worldwide distinguished clientele. Be the winner, choose world's top notch, choose Brave's Precision Screen series!
Brave C&H Supply Co., Ltd. exhibited its High Technology Performance offering C1 screen technology and many products in the fair.
Believe Solar Energy, Believe HAMAK
HAMAK are abbreviation of Hallmark, which representatives HAMAK pay attention on quality requirements, like Hallmark presented, being a golden-stamped logo,timeless and never fade,the concept of quality demand are what Hamak insists. When they design and manufacture all of related HAMAK product, timeless are the purpose in their company.
The main colors of corporate identity from HAMAK are red and white, you can see that business philosophy and corporate image
from HAMAK, red represents enthusiasm, to full of confidence for anything, always hold the passion for customer service and solve problems. White represents purity and honesty, HAMAK stay with honest mind in product design and manufacture for all goods, also insist on quality control to let all of customer convinced.
Delta PV inverter distributor, HAMAK branded product: PV combiner box, solar mounting structure, charging controller, solar power storage system, and solar motor driver at PV Taiwan 2016 show.
The Equipments behind the power: Allis Electric Co., Ltd.
Founded on September 25, 1968, Allis Electric Co., Ltd. started by producing low-voltage switchgear, motor control centers, high/low-voltage integrated start-up panels, AC/DC industrial control equipment and transmission & distribution apparatus. Its steady operations led to the development of independent departments which produce transformers, switching devices and electronic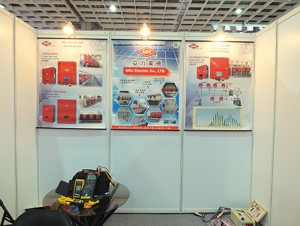 products. Allis products are designed to meet the requirements of renowned corporations around the world, such as Los Angeles Department of Water and Power, Toshiba, Taiwan Semiconductor Manufacturing Company, etc. Allis Electric Co., Ltd. displayed its, Smart Grid Solution, PV Inverter for self-consumption which features iconic display easy to monitor energy flow, default smart meter with split-core CT for smart load control and easy installation, selectable scenarios for sophisticated energy application and high battery discharge power (5.3KW), charge/discharge efficiency >95%.
#solarenergyExpo #pvsolarenergyexpo #photovoltaicsystems #HAMAK #AllisElectricCo #WINAICO #Brave #PrimeVOLT #LeadFarTechnologiesInc #AUOptronicsCorp #NeoSolarPower